Pinnacle was founded in 1998 and is owned by Pinnacle Sports Worldwide. The headquarters are located in Willemstad, Curacao and offer their services in over 200 countries. Many people probably know the name Pinnacle but have difficulty placing it. In betting circles, Pinnacle is the company that stands out in terms of odds, limits and their good reputation. Pinnacle does not attract customers with a Pinnacle bonus, gift, or free game. It may feel boring, but if you ask someone who professionally engages in online betting, there is a particular site that is favorite, guess which one? Pinnacle of course.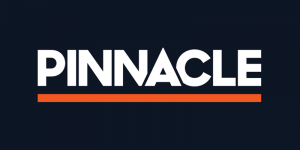 No bonus but best odds and highest bet limits
Pinnacle
Always best odds and highest bet limits
Bet more at Pinnacle than any other bookmaker
Winners are welcome
Educating customers about betting
Pros
Always best odds
Highest Limits
Arbitrage -friendly
Livestream
Pinnacle does not offer live stream but maybe in the future.
Pinnacle Bonus
The bookie does not offer any Pinnacle bonus or promotion to its customers. They have a completely different approach when it comes to attracting customers. Actually something that is much more important in the long run. Instead of a Pinnacle bonus, they always offer the best odds and you can play for the highest limits. This gives you as a customer a lot more than any welcome bonus or free bet every now and then. Another bonus of becoming a Pinnacle customer is that they really educate their players through their new betting resources page. It is said to be the most comprehensive collection of online betting knowledge. Pinnacle has always put the customer in the forefront and used there market expertise to educate their players rather than participate in a headless bonus race. With the launch of the betting resources page, they are increasing the unique "education bonus" you get as a Pinnacle customer. Everyone who is serious about betting is more likely to choose to play at higher odds, limits and with confidence that the company welcomes winners rather than getting a Pinnacle Bonus. We recommend anyone to become a Pinnacle customer, whether you are a beginner or a professional. It's worth it in the long run!
In-play betting
Pinnacle has a good In-play betting service. The range is great and you can play at anything from Champions League, Premier League, La Liga, Serie A and Bundesliga football to the NBA, NCAA basketball, NCAA NFL American football WTA, ATP tennis and NHL hockey and more. Their mobile version is really fast and highly recommended for live betting.
Tiltbet has previously published an article where we go into their arbitrage-friendly ways and why Pinnacle is something out of the ordinary. Read it here.